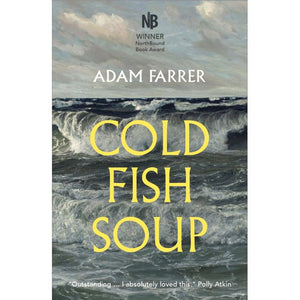 Cold Fish Soup by Adam Farrer
Regular price $17.95 Sale
Paperback
Cold Fish Soup is a series of meditations, often humorous, about life and death in a crumbling, forgotten English seaside town, and how people can find sanctuary and curious tales in the most unexpected places.
Before teenager Adam Farrer relocated with his family to Withernsea in 1992, he'd never heard of this isolated, faded seaside town in a down-trodden part of Yorkshire, northern England. The move represented just one thing to him: a chance to leave the insecurities of adolescence behind. He could do that anywhere. But he didn't anticipate how much he'd grow to love the quirks of the town, nor care about its eroding cliffs and declining high street.
Cold Fish Soup is an affectionate look at a place and its inhabitants--and the ways in which they can shape and influence someone throughout their life. Drawing on his own experience, Adam shares stories from adolescence to adulthood of reinvention, male mental health and suicide, friendship, interdimensional werewolves, burlesque dancing pensioners, and his compulsion toward the sea.
In this personal, insightful, and funny account, Adam explores the power of community and what it means to love and be shaped by a place that is running out of time.