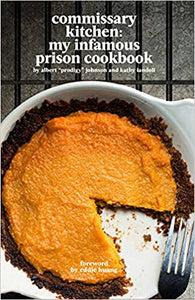 Commissary Kitchen: My Infamous Prison Cookbook by Albert Prodigy Johnson
Regular price $40.00 Sale
Paperback
Here's what you get at the 
Commissary Kitchen
:


- Clean Hands Sweet Potato Pie
- Spicy Seafood
- Don't Be Salty Chicken Ramen
- Barbecue Salmon
- Vegetarian Curry


And a lot more. In the Fall of 2016, rapper 
Prodigy
 released his 
Commissary Kitchen
 cookbook as a long-awaited addendum to his critically acclaimed 2011 memoir 
My Infamous Life: The Autobiography of Mobb Deep's Prodigy
.

Originally, Prodigy's vision for 
Commissary Kitchen
 was to highlight the bare bones prison conditions to which inmates are subjected to and forcibly requiring a broad scope of ideas when it comes to the limited nutrition provided from food purchased within the commissary.

The conversation was taken to 
Harvard
, 
MIT
, and 
Yale
, with televised appearances on 
NBC's
The Tonight Show With Jimmy Fallon
, 
TMZ
, and a lengthy discussion with legendary radio personality Angie Martinez during the Barnes & Noble book launch, as well as a food truck at the renowned 
Smorgasburg
.

In 
My Infamous Life
, Prodigy detailed his mindset and need for self-reflection while imprisoned, but took it a step further with 
Commissary Kitchen
 by using recipes to tell the stories of life in prison, as he grappled with staying healthy as a quiet sufferer of the SS Type of Sickle Cell Anemia, by far the most fatal. Prodigy surrendered to the disease in 2017, though much like his music, his impact lives on forever.

As the world became entrenched in a global pandemic this book provides a glimpse of ways to survive under meager conditions. Once again 
Commissary Kitchen
 proves useful, as what was once a prison and college dormitory favorite can now be applied to most human lives in search of fun and moderately healthy recipes using well-preserved items like canned goods with simple appliances and utensils.

From omelets to black bean curry, simple sauces and reductions, there's plenty to pull from 
Commissary Kitchen
 as our current need is to stretch our food supply as far and most affordable as possible ―especially with escalating unemployment rates.

Prodigy's initial intent was to save lives, and here he's doing it again. 
Commissary Kitchen
 is much more than a fun gift book; it's 
an essential survival guide
 for these uncertain times. Rest In Peace, Prodigy.