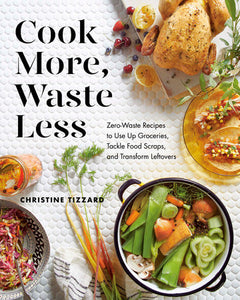 Cook More, Waste Less Zero-Waste Recipes to Use Up Groceries, Tackle Food Scraps, and Transform Leftovers by Christine Tizzard
Regular price $24.95 Sale
Paperback
An indispensable and timely cookbook offering easy, everyday solutions to a problem every home cook faces: food waste, and 100 delicious and flexible recipes to get the most of your food.

Cook More, Waste Less offers accessible solutions to a problem every home cook faces: waste. From grocery shopping tips to pantry storage ideas, this book is packed with strategies to get the most out of your food, whether it's fresh or frozen, ingredients a little past their prime, or leftovers.

Written by food industry professional Christine Tizzard, who after seeing (and cringing at) the amount of wasted food during filming and photo shoots, and having many friends come to her with their own food waste woes, knew she had to share the everyday low waste hacks she uses in her own kitchen.

Inside there are over 100 adaptable recipes to enjoy, with plenty of flexibility for substitutions. Turn leftover broccoli and Swiss chard stems into a delicious au gratin. Use up your parmesan rinds in a soothing broth. Make a mouthwatering pot roast and turn the leftovers into a savory pie or beefy black lentil stew. Leftover rice? Rice pudding. Fruit going soft? Anything can be a marmalade. There are even ideas for face scrubs and dog treats.

Featuring candid photography and zero waste tips from other chefs and producers, Cook More, Waste Less gives you the tools to enjoy every last bite, save valuable dollars, and help reduce environment impact at the same time.