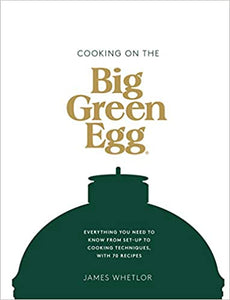 Cooking on the Big Green Egg: Everything You Need to Know from Set-Up to Cooking Techniques, with 70 Recipes by James Whetlor
Regular price $35.00 Sale
Hardcover
Big Green Egg has a cult following amongst BBQ experts due to its high-performance cooking at a range of temperatures and NASA specification ceramics. As more and more enthusiasts realize what a versatile and practical bit of cooking kit the EGG is, experts and amateurs alike are looking for recipes to test out their skills and maximize the EGG's capabilities.

Cooking on the Big Green Egg showcases this vital piece of outdoor cooking equipment and offers instructions and recipes for everything you'd ever want to cook in it. Award-winning author of Goat, James Whetlor, guides the reader through the basics of using your Big Green Egg, with a full explanation of how it works and how to get the best out of it, whether you're cooking on the grill or plancha, oven roasting, smoking, baking, cooking "dirty" directly on the coals, or taking it low and slow.

With James's cooking advice and tips, you'll then be ready to cook your way through 70 amazing recipes including all the basic meats and joints, whole fish, vegetables and jaw-dropping BBQ feasts. With this outstanding book by your side you'll go from beginner to EGG expert in no time, and enjoy delicious food in the process all year round.