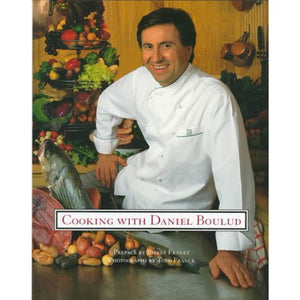 Cooking with Daniel Boulud by Daniel Boulud
Regular price $35.00 Sale
Hardcover
At long last, Daniel Boulud, widely celebrated as one of Americas greatest chefs, has assembled the volume of spectacular recipes for which the gastronomic community has been enthusiastically clamoring. Now chef/owner of the internationally acclaimed and wildly successful Restaurant Daniel on Manhattans Upper East Side, Boulud originally became the toast of the restaurant world in his role as executive chef at Le Cirque. His stunning and inventive cuisine has garnered accolades everywhere from Gault Millau to The New York Times, from Food Wine and the International Herald Tribune both of which voted him one of the ten best chefs in America to the James Beard Foundation which selected him as New York Chef of the Year in 1992 and Best Chef in America in 1994 .
Here, in his first cookbook, Boulud presents instructions for everything from hors doeuvres to desserts, lavishly illustrated and adapted for the home cook. Based on a style of cooking known as cuisine du marche cooking with local and seasonal produce , these recipes take advantage of the abundance of fresh foods available in farmers markets and upscale grocery stores throughout the United States. This collection of over two hundred recipes includes such delights as Crisp Paupiette of Bass in a Barolo Sauce, Sirloin Napoleon with Black Olives and Zucchini, Maine Sea Scallops in Black Tie, Nine-Herb Ravioli with Basil Oil and a Tomato Coulis, Crisp Duck Pot-au-Feu with an Herb Oil, and Roasted Peaches and Blackberries with Ginger Caramel Ice Cream.
Boulud both dazzles and inspires with a display of his culinary virtuosity and versatility. He shows home cooks how to re-create his delicious and imaginative dishes without arduous techniques or complex equipment. The recipes herein offer a wealth of professional tips, and each step is simply and clearly explained. More than just a collection of brilliant recipes, Cooking with Daniel Boulud is also a primer on Bouluds cooking philosophy. The principle on which his cuisine rests is his insistence on only the finest fresh seasonal ingredients. All recipes are coded by season, and Cooking with Daniel Boulud also includes an exquisitely illustrated seasonal market list at the back of the book that is both an invaluable buying guide to ingredients featured in the book and a compendium of simple recipes and preparation tips.