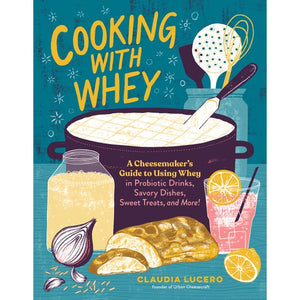 Cooking with Whey by Claudia Lucero
Regular price $16.99 Sale
Paperback
Popular cheesemaking author Claudia Lucero shares 60 creative recipes for using whey, a nutrient-rich byproduct that too often goes to waste in the making of cheese, yogurt, and kefir.

Anyone who's ever made cheese at home knows that roughly three-quarters of every gallon of milk transforms into a perplexing byproduct called whey. "Don't throw away your whey!" says cheesemaker Claudia Lucero.
In
Cooking with Whey
, Lucero shares 60 inventive recipes that use whey, which is rich in protein, minerals, and vitamins, and adds creaminess and flavor to foods. Sweet whey, a byproduct of cheesemaking enhances baked goods and smoothies. Acid whey, produced in yogurt- and kefir-making, is ideal for brining meat, kick-starting ferments, and adding tang to main dishes.
From Brazilian Limeade and Strawberry Oat Milk to Skillet Cornbread, Broth-Poached Salmon, Honey Caramels, Espresso Martinis, and many more mouth-watering recipes for beverages, soups, breads, desserts, and everyday meals, this book is the key to unlocking a delightfully surprising array of ways to put whey to work!