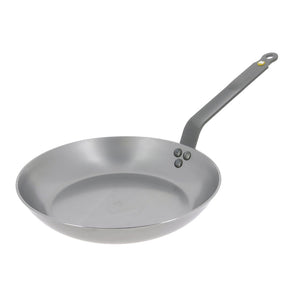 11 Inch Frypan
Regular price $115.00 Sale
Made in France. From de Buyer.
Mineral B Pro with cast stainless steel handle
Use
Ideal for use on any type of cooktop, including induction.
Oven safe to 500°F.
Do not use under broiler to prevent altering natural seasoning that builds up on cooking surface.
Do not use to cook acidic food.
Read instruction booklet before using.
Care
Wash exterior and interior with hot water and a little soap to remove beeswax coating before seasoning.
Season pan before first use. Add 1/3 cup oil, 2/3 cup salt and the peels from 2 potatoes (or 2 sliced onions) to pan. Over medium heat, stir potatoes every few minutes. Salt acts as natural abrasive to remove wax and grease from surface while peels regulate heat and ensure even distribution of seasoning over pan surface. After 15 minutes, pan will start to turn brown, indicating that seasoning is taking effect. Discard contents of pan and rinse with hot soapy sponge. Return pan to low heat for 1 minute to ensure it is completely dry. Remove from heat, add 1/4 tsp. oil to pan and wipe thoroughly with paper towel until fine sheen is all that remains.
Hand-wash with hot water after each use. Add a few drops of gentle soap, if needed.
Do not soak pan.
Remove any residue with wooden spoon or nonabrasive scouring pad.