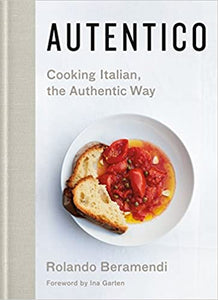 Autentico by Rolando Beramendi
Regular price $20.00 Sale
Hardcover
Autentico is an introduction to the true flavors of Italy. From the bright notes of fresh olive oil to the hearty warmth of slow-cooked ragú, Rolando Beramendi, importer and connoisseur of the finest ingredients from Italy, has crafted a perfect guide to authentic Italian food.

Unlike many Italian cookbooks, Autentico goes far beyond pasta. In a world where culinary shortcuts, adulteration, misleading labeling, and mass production of seemingly "authentic" food rule, culinary archaeologist, innovator and cooking teacher Rolando Beramendi has kept centuries-old culinary traditions alive. That's authentic!

In Autentico, Rolando details how to make classic dishes from Spaghetti Cacio e Pepe to Risotto in Bianco and Gran Bollito Misto as they are meant to be – not the versions that somehow became muddled as they made their way across the globe. Among the 120 recipes, you'll find Baked Zucchini Blossoms filled with sheep's milk ricotta; Roast Pork Belly with Wild Fennel; Savoy Cabbage Rolls made with farro and melted fontina; Orecchiette with Sausage and Broccoli Rabe; Risotto with Radicchio; and a Lamb Stew with ancient Spice Route flavors that have roots from the times of Marco Polo and could have been served to the de' Medici during the Renaissance. And of course, there are dolci (desserts): Summer Fruit Caponata, Meringata with Bitter Chocolate Sauce, and a simple, moist, and succulent Extra Virgin Olive Oil Cake. Colored by the choicest ingredients from the shores of Italy and beyond, the pages of Autentico offer a rich taste of the Italy's history, brought to life in the modern kitchen.