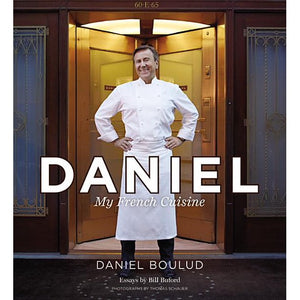 Daniel: My French Cuisine by Daniel Boulud and Sylvie Bigar
Regular price $70.00 Sale
Hardcover-- First Edition
Daniel Boulud, one of America's most respected and successful chefs, delivers a definitive, yet personal cookbook on his love of French food.
From coming of age as a young chef to adapting French cuisine to American ingredients and tastes, Daniel Boulud reveals how he expresses his culinary artistry at Restaurant Daniel. With more than 75 signature recipes, plus an additional 12 recipes Boulud prepares at home for his friends on more casual occasions.
Daniel
is a welcome addition to the art of French cooking. Included in the cookbook are diverse and informative essays on such essential subjects as bread and cheese (bien svar), and, by Bill Buford, a thorough and humorous look at the preparation of 10 iconic French dishes, from Pot au Feu Royale to Duck a la Presse...with more than 120 gorgeous photographs capturing the essence of Boulud's cuisine and the spirit of restaurant Daniel, as well as a glimpse into Boulud's home kitchen, Daniel is a must-have for sophisticated foodies everywhere.