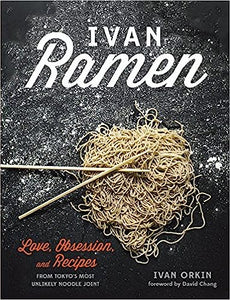 Ivan Ramen by Ivan Orkin
Regular price $16.00 Sale
Hardcover
The end-all-be-all guide to ramen as told by the iconoclastic New Yorker whose unlikely life story led him to open Tokyo's top ramen shop—featuring 44 recipes!

"What Ivan Orkin does not know about noodles is not worth knowing."—Anthony Bourdain

While scores of people line up outside American ramen powerhouses like Momofuku Noodle Bar, chefs and food writers in the know revere Ivan Orkin's traditional Japanese take on ramen. Ivan Ramen chronicles Orkin's journey from dyed-in-the-wool New Yorker to the chef and owner of one of Japan's most-loved ramen restaurants, Ivan Ramen. His passion for ramen is contagious, his story fascinating, and his recipes to-die-for, including the complete, detailed recipe for his signature Shio Ramen, master recipes for the fundamental types of ramen, and some of his most popular ramen variations.

Likely the only chef in the world with the knowledge and access to convey such a candid look at Japanese cuisine to a Western audience, Orkin is perfectly positioned to author what will be the ultimate English-language overview on ramen and all of its components. Ivan Ramen will inspire you to forge your own path, give you insight into Japanese culture, and leave you with a deep appreciation for what goes into a seemingly simple bowl of noodles.