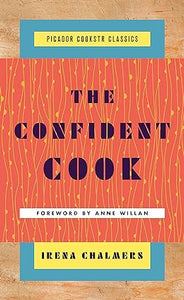 The Confident Cook by Irena Chalmers
Hardcover
Anyone who can understand the reasoning behind basic cooking techniques can become a creative, relaxed, and confident cook. Chalmers takes the would-be chef through how the addition or substitution of a few ingredients can transform a simple dish into a culinary masterpiece.

The Confident Cook, invaluable to experienced cooks as well as to beginners, demonstrates that in fact there are only four or five basic methods of cooking food. Once mastered, these basic methods can be used with many different ingredients to create countless dishes. Chalmers shows how beef stew, braised veal, coq au vin, and a vegetable casserole, for example, are similar in their preparation; how a simple beef stew can become a hearty Mulligan, a Belgian carbonnade, a French boeuf bourguingnon, or your own less classic invention. More important, she shows how you can whip up something delectable from whatever supplies you have available without being tied to a recipe with specified ingredients.

About two hundred recipes are given with logical and practical directions, and some seventy-five original line drawings clearly illustrate each technique and some of the finished dishes. But the heart of this book is the information that makes it possible to dispense altogether with recipes and to start experimenting―confidently and successfully―with your own creative cooking ideas.