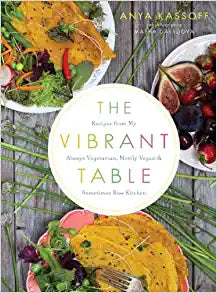 The Vibrant Table by Anya Kassoff
Regular price $18.00 Sale
Hardcover
Shows how wholesome plant-based meals, new flavor combinations, and surprisingly simple raw-food techniques can become part of a fun family lifestyle.

Walk with Anya Kassoff through farmers' markets, local food shops, and her garden, and you too will start to see fresh fruit and vegetables as the raw materials for artistic expression. Rose petal and honey sundaes, lemongrass and raspberry tiramisu with cardamom cream, amaranth pumpkin porridge: with these recipes in hand, you will never run out of ways to enjoy fresh, whole foods at home.
    
Anya's family-focused food blog, Golubka (Russian for "dove"), has a well-earned reputation for unique recipes that please the palate and senses. Her recipes are healthy by most standards--always vegetarian, mostly vegan, gluten-free, and often raw--and every dessert can serve as an energizing breakfast. Her food is fresh, seasonal, homemade, handcrafted, and 100% delightful, almost whimsical.
    
Over 100 recipes include lighter interpretations of familiar classics and embody a fresh, bright sensibility that will inspire you well beyond the table. Anya's kitchen is part workshop and part art classroom, so many recipes double as food projects that can be done for or with kids. The Vibrant Table is a delicious homage to lightness and elegance at home.