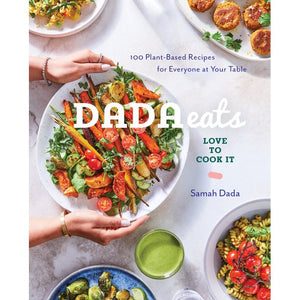 Dada Eats Love to Cook It : 100 Plant-Based Recipes for Everyone at Your Table by Samah Dada
Regular price $26.99 Sale
Hardcover
100+ indulgent meals and treats from the vegan- and keto-friendly rising star, all made with whole, unprocessed ingredients, including viral hits like brookie (brownie/cookie) pie and chocolate chip tahini cake--100+ meals and treats with accidentally plant-based energy, all made with natural, unprocessed ingredients, all easy and indulgent, from rising star Samah Dada.
Samah Dada doesn't buy into the all-or-nothing mentality of healthy eating. By using real, unprocessed ingredients in surprising ways, she shows you how to have your cake and eat it too because it's actually made out of chickpeas.
Her food is often vegan, allergen-free, gluten-free, grain-free, and Whole30-compliant because she's only using the most nutritious ingredients, not because she's cutting out food groups to follow the latest fad. Her creative use of plants gives us drool-worthy dishes like her viral hits Brookie Pie and Chocolate Chip Tahini Cake with Chocolate Frosting, as well as One Banana Only Muffin Tops, Pancake Bread, Cauliflower Cacio e Pepe, and Masala Mac and Cheese.
And she draws on her Indian roots for dishes like Spicy Eggplant Masala and the Best Dal Ever that come together in record time. Chocolate Chip Chickpea Blondies, Coconut Sugar Halva Strawberry Crumble Bars, and Marbled Chocolate Tahini Loaf Cake rely on unprocessed sugars, legumes, and grain-free flours, but they still satisfy every sweet tooth as you learn how to use these healthy ingredients for maximum flavor and joy.
Grain-Optional. Gluten-Flexible. Mostly Plants. Totally Inclusive.