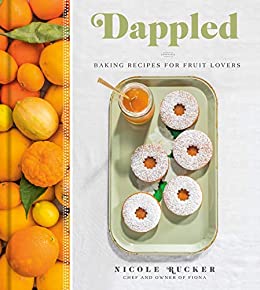 Dappled: Baking Recipes for Fruit Lovers A Cookbook by Nicole Rucker
Regular price $32.00 Sale
Hardcover 
Fresh fruit-based desserts from beloved Los Angeles pastry chef and restaurateur Nicole Rucker.

Nicole Rucker is responsible for some of the most raved-about and Instagrammed pastries and baked goods in Los Angeles, first as the Pastry Chef at the hotspots Gjelina Take Away and Gjusta, then through her pie company Rucker's Pie and restaurant Fiona. In her debut cookbook, Rucker shares her obsession and her recipes with readers to help them achieve the same kind of magical alchemy she's perfected in fruit desserts.

To Rucker, fruit is every bit as decadent as chocolate cake and in this unique guide to crafting desserts, she offers up an enthusiastic ode to baking with seasonal ingredients, from summertime peaches to winter citrus. As much a storyteller as she is a baker, Rucker warmly relays her lifelong passion for fruit with charm and humor. With imaginative adaptations of classic dishes like Peach and Ricotta Biscuit Cobbler and Huckleberry Blondies, Rucker's recipes are for the wide-eyed fruit lover and farmers' market trawler in all of us.