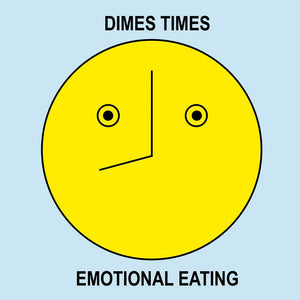 Dimes Times: Emotional Eating by Alissa Wagner and Sabrina De Sousa
Regular price $39.95 Sale
Hardcover
The duo behind New York restaurant Dimes presents a sensitive, gastronomical roadmap for the heart and the belly with their debut cookbook, Dimes Times: Emotional Eating.
Dimes, the all-day Chinatown restaurant known for serving vibrant, healthy plates to a devout following of patrons has grown to include a deli and market as well as design objects and apothecary products since its opening in 2013. Now, the all-encompassing brand expands with its debut cookbook: Dimes Times: Emotional Eating

The collection of recipes, derived from the Dimes menu, is organized by time of day and state of mind, from 8AM, Determined and 4PM, Curious through 11PM, Afterhours. The 8x8 book is inspired by Bruno Munari, medicine folklore and conversations overheard in the neighborhood and features interactive food faces and shapely rhymes that encourage readers to get creative with their meals.

Dimes Times: Emotional Eating features photography by Mary Manning alongside text by Alissa Wagner and Toniann Fernandez, and was designed by Erin Knutson and Sabrina De Sousa. Sandwiched between two clocks that recall the Dimes logo, Dimes Times: Emotional Eating is a compendium of tasty go-to's for the mind and body at any hour.