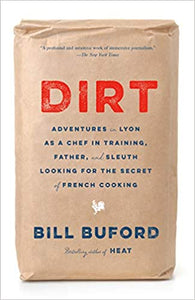 Dirt Adventures in Lyon As A Chef in Training, Father, and Sleuth Looking For the Secret of French Cooking by Bill Buford
Regular price $17.00 Sale
Paperback
"You can almost taste the food in Bill Buford's Dirt, an engrossing, beautifully written memoir about his life as a cook in France." —The Wall Street Journal

What does it take to master French cooking? This is the question that drives Bill Buford to abandon his perfectly happy life in New York City and pack up and (with a wife and three-year-old twin sons in tow) move to Lyon, the so-called gastronomic capital of France. But what was meant to be six months in a new and very foreign city turns into a wild five-year digression from normal life, as Buford apprentices at Lyon's best boulangerie, studies at a legendary culinary school, and cooks at a storied Michelin-starred restaurant, where he discovers the exacting (and incomprehensibly punishing) rigueur of the professional kitchen. 

With his signature humor, sense of adventure, and masterful ability to bring an exotic and unknown world to life, Buford has written the definitive insider story of a city and its great culinary culture.