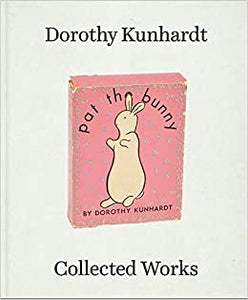 Dorothy Kunhardt Collected Works
Regular price $85.00 Sale
Hardcover
A visual celebration of Dorothy Kunhardt―author of Pat the Bunny and one of the most dynamic and beloved American children's writers―with ephemera, drawings, unpublished manuscripts and more
Best known for Pat the Bunny, published in 1940, Dorothy Kunhardt was a tireless innovator, publishing more than 40 books in three decades. Today, Pat the Bunny is still in print and has sold nearly ten million copies.
Drawn entirely from the Kunhardt family collection, this publication brings Dorothy Kunhardt's work to life generations later through photographs, letters, poetry, drawings, book mock-ups, unpublished manuscripts and full reproductions of first edition books. Also reproduced is a selection of research materials and papers pertaining to Kunhardt's second consequential career, as an Abraham Lincoln scholar and steward of the Meserve Collection of Lincoln photographs and artifacts begun by her father.
Born in New York City, Dorothy Kunhardt (1901–79) dictated her first story to her father at the age of three, and went on to become an inventive author, illustrator and creator of children's books. She took her first stab at writing and illustrating with an outlandish devil-may-care picture book titled Junket Is Nice. Published in 1933, Junket received rave reviews, gave Depression-era families the perfect excuse to share a good laugh, and was an immediate bestseller. Dozens more books followed that were notable for their originality in concept, format and design, among them Pat the Bunny, The Telephone Book (1942) and Tiny Animal Stories (1948). All bore the mark of their author's unfettered imagination and seemingly boundless zest for life.