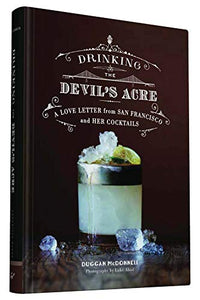 Drinking the Devil's Acre by Duggan McDonnell
Regular price $24.95 $17.47 Sale
Hardcover
An Amazon Best Book of the Month, 
Drinking the Devil's Acre: A Love Letter From San Francisco & Her Cocktails
is a smart, delightful mix of barman's memoir and literary journalism, with layers of spirited history and liquid wisdom. A tender tale of love for delicious drink, and for one's city, a book for anyone with a passion for history, cocktails, San Francisco, and the wanderlust of travel. 
Wayne Curtis, in the Wall Street Journal, wrote: 'My nominee for the best cocktail book of the year? Duggan McDonnell's "Drinking the Devil's Acre". The book is named for a few famously hard-drinking blocks set within 19th-century San Francisco's famously hard-drinking Barbary Coast. Mr. McDonnell weaves short essays with recipes, and makes a case that what sets his city apart from other cocktail meccas is a "unified preference for bright, bitter, and boozy on the palate." He gently encourages us to color outside the lines with experiments using widely available ingredients. .. "A delicious cocktail is a balanced cocktail," Mr. McDonnell writes in his "rules for budding barmen." Likewise, a good cocktail book is balanced book, with a mix of history, local color, a few eccentric characters and straightforward directions for making tasty drinks at home. In all this, "Drinking the Devil's Acre" delivers.' 
The Devil's Acre was a single, saloon-soaked block within the notorious Barbary Coast of old San Francisco. It was the wickedest, wildest place in the whole wide world -- not where you went to whet your whistle. But, just a few short blocks away, marbled drinking palaces reigned and civilization was sung as cocktails were shaken in tin and served in copper mugs. The high art of the cocktail lived at the edge of the West's most electrifying nightlife. Several generations later, San Francisco boasts this very same culture with the farm-to-glass movement is at its height.  
Twenty-five iconic cocktail recipes made famous by the City by the Bay--from the legendary Pisco Punch, the Mai Tai, and Irish Coffee, the rediscovery of the Gold Rush-era Sazerac and the whimsical Lemon Drop--are accompanied by an additional 45 recipes and McDonnell's 'Bartender's Secret Formulas,' including contemporary San Francisco classics as the Revolver and La Perla. Every chapter is guaranteed to keep the pages turning, the party going and your spirits flowing.