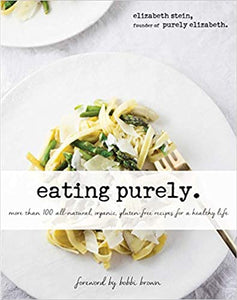 Eating Purely More Than 100 All Natural, Organic, Gluten-Free Recipes For A Healthy Life by Elizabeth Stein
Regular price $12.00 Sale
Hardcover
Good health begins with what you put in your body. When you eat better, you feel better. It's that simple.

A few short years ago, Elizabeth Stein could be found in her tiny Manhattan kitchen searching for a way to make gluten-free and vegan products that tasted great and weren't overly processed. Working with ingredients such as chia seeds, flax, hemp, and coconut sugar, Elizabeth successfully developed recipes that were all-natural, non-GMO, gluten-free, and diabetes friendly. These recipes helped her form Purely Elizabeth, an award-winning line of products that can be found in more than 1,500 stores.

Eating Purely is a collection of Elizabeth's favorite recipes, which she has made for family, clients, and friends over the years. The recipes are healthy, easy, and delicious—and at times even indulgent. Eating Purely is focused on cooking with whole foods that are naturally gluten-free, nutrient rich, free of refined sugar, and mostly vegetable based.

These recipes are centered on Stein's five Eating Purely Principles, which will leave you feeling healthy and purely radiant. These principles are: eat whole, clean foods; focus on Plants; add in nutrient-rich ingredients; kick inflammatory foods to the curb; and practice the 80/20 rule. Chapters include: salads, veggie mains, fish and poultry, desserts, drinks, bunch, and more!

Throughout Eating Purely, Stein shares personal stories on health, exercise, family, entertaining, and starting her own natural foods company. Interwoven throughout the book is what Stein calls "the purely scoop"—time-saving cooking tips, benefits of ingredients used, resources for buying foods, and food and wine pairings.