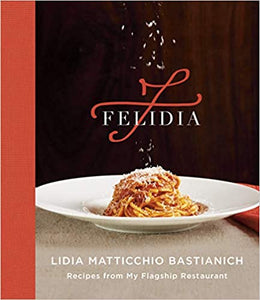 Felidia by Lidia Bastianich
Regular price $35.00 Sale
Hardcover
Beloved chef and best-selling author Lidia Bastianich shares, for the first time, the timeless recipes that have made her flagship restaurant, Felidia, a New York City dining legend for almost four decades.

Ever since it opened its doors on Manhattan's Upper East Side in 1981, Felidia has been revered as one of the best Italian restaurants in the country. In these pages, Lidia and longtime Executive Chef Fortunato Nicotra share 115 of the recipes that capture the spirit of the Felidia menu past and present. From pastas and primi to appetizers and meats, and from breads and spreads to sides and soups, these are some of Lidia's absolute favorite dishes, lovingly adapted for home cooks to re-create in their own kitchens.

Here are recipes for old-school classics such as Pasta Primavera and Linguine with White Clam Sauce and Broccoli. Contemporary favorites include Pear and Pecorino Ravioli, Chicken Pizzaiola, Short Ribs Braised in Barolo, and Eggplant Flan with Tomato Coulis. Exquisite dessert recipes include Warm Nutella Flan, Open Cannolo and Limoncello Tiramisù, while Passion Fruit Spritz and Frozen Peach Bellini come from the restaurant's lively bar. Felidia is a beautifully illustrated, full-color cookbook that takes readers behind the scenes of the restaurant's storied history and is filled with the same warmth and hospitality that are the hallmark of all of Lidia's cookbooks. It's the next-best thing to enjoying an evening out at this award-winning eatery!