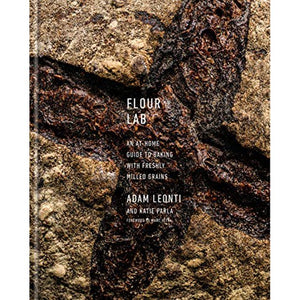 Flour Lab An At-Home Guide To Baking With Freshly Milled Grains by Adam Leonti
Regular price $35.00 Sale
Hardcover
 pioneer of the at-home milling movement, Adam Leonti has written the definitive guide that modernizes this old-world tradition for home cooks and amateur breadheads. With step-by-step photographs and comprehensive instructions to guide you through each technique, plus guidance on all aspects of home milling, including sourcing wheat or flour and choosing the right equipment for your kitchen, Flour Lab is a master class at making better-tasting and more nutritious food.
Thirty-five recipes for bread, pasta, pizza, cake, and pastry serve as a practical base, and Leonti provides dozens of delicious recipes to tailor them to your taste, including:
- Bread: Potato Rolls with Honey Butter; Bagels; Yeasted Ciabatta
- Pasta: Canderli bread dumplings ; Ricotta and Lemon Zest Ravioli; Chicken Liver and Saffron Rag
- Pizza: Butter, Honey, and Lavender Bianco-style Pizza; Robia, Mortadella, and Arugula Pizza al Taglio; Tomato and Stracciatella Pizza Napoletana
- Pastry, Cookies, and Cakes: Biscotti with almond and grapefruit; Whole Wheat Croissants; Carrot Cake with Cream Cheese Frosting
 Embracing freshly milled flour in these recipes-and all the ones you already love to make-will ensure that you never have a stale meal again.