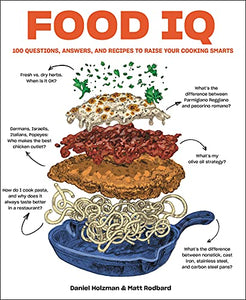 Food IQ: 100 Questions, Answers, and Recipes to Raise Your Cooking Smarts by Daniel Holzman and Matt Rodbard
Regular price $35.00 Sale
Hardcover
In the spirit of books like Salt, Fat, Acid, Heat and Food Lab, an informative, entertaining, and essential guide to taking your kitchen smarts to a higher level—from two food world professionals (a chef and a writer).
When food writer Matt Rodbard met chef Daniel Holzman while covering the opening of his restaurant, The Meatball Shop, on New York's Lower East Side, it was a match made in questions. More than a decade later, the pair have remained steadfast friends—they write a popular column together, and talk, text, and DM about food constantly. Now, in Food IQ, they're sharing their passion and deep curiosity for home cooking, and the food world zeitgeist, with everyone.
Featuring 100 essential cooking questions and answers, Food IQ includes recipes and instructions for a variety of dishes that utilize a wide range of ingredients and methods. Holzman and Rodbard provide essential information every home cook needs on a variety of cooking fundamentals, including:
Why does pasta always taste better in a restaurant? (The key to a perfect sauce is not pasta water, but a critical step involving . . . emulsification.)
When is it okay to cook with frozen vegetables? (Deep breath. It's very much OK, but only with certain types.)
What is baker's math, and why is it the secret to perfect pastry every time? (It uses the weight of flour as the constant and . . . we have a handy chart for you.) 
Rodbard and Holzman also offer dozens of delicious recipes, such as Oyakodon--Chicken and Eggs Poached in Sweet Soy Sauce Dashi, The Cast Iron Quesadilla That Will Change the Way You Quesadilla, and 40 Minute Red Sauce. Throughout this culinary reference guide and cookbook readers can expect to find both wisdom and wit, as well as stunning photos and illustrations, and illuminating conversations with notable chefs, writers, and food professionals such as Ina Garten, Roy Choi, Eric Ripert, Helen Rosner, Thérèse Nelson, Priya Krishna, and Claire Saffitz. 
From grilling to sous vide, handmade pasta to canned fish, and deconstructing everything from salt and olive oil to organic produce and natural wine, Food IQ is a one-stop shop for foodies and home cooks, from novices to the most-adventurous culinarians. You don't know what you don't know.