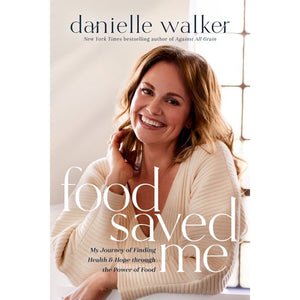 Food Saved Me : My Journey of Finding Health and Hope Through the Power of Food by Danielle Walker
Regular price $26.99 Sale
Hardcover
When doctors told Danielle Walker that food didn't cause her autoimmune disease and couldn't help control it, she set out to prove them wrong.
Diagnosed with an extreme form of ulcerative colitis at 22, Danielle was terrified she'd never be able to eat all the wonderful, great-tasting foods she loved growing up or host warm, welcoming gatherings with family and friends. So when the medicine she was prescribed became almost as debilitating as the disease itself, Danielle took matters into her own hands, turned her kitchen into a laboratory, and set to work creating gut-healthy versions of the foods she thought she'd never be able to enjoy again. Three
New York Times
bestselling cookbooks later, Danielle has become a beacon of hope for millions around the world suffering from autoimmune diseases, food allergies, and chronic ailments.
Now for the first time, with stunning transparency about the personal toll her illness took on her physically, emotionally, and spiritually, Danielle reflects on everything she's learned during her decade-long journey toward healing--including the connection between gut health and overall well-being, the development of her favorite recipes, and the keys for not simply surviving her autoimmune disease but thriving despite it. Through her resilience, Danielle tells a story that provides
hope
--hope that despite your ailments or hardships, you can live a full, happy, and healthy life without ever feeling excluded or deprived.
Food saved Danielle Walker. And it can save you, too.
Includes six fan-favorite recipes and the stories behind them!
For the first time,

 

New York Times

 

bestselling cookbook author and wellness advocate Danielle Walker writes the full story of her journey to finding life again through the healing power of food.

 

After being diagnosed with an extreme form of ulcerative colitis, an autoimmune disease, at 22, Danielle made it her personal mission to effectively manage her symptoms through lifestyle and diet

 

without

 

sacrificing her passion for great-tasting, healthy food. Thousands of recipes and three

 

New York

 

Times

 

bestselling cookbooks later, Danielle is a beacon of hope in the autoimmune world, helping millions of readers who suffer from disease, allergies, or chronic ailments find freedom and experience deep healing.

 

Now, in

 

Food Saved Me

, Danielle pens her first memoir, reflecting on the journey that brought her here: a decade-long cycle of diagnosis, trauma, debilitating sickness, remission, recovery, setbacks, hope, and healing. Danielle's resilience in the face of sickness and loss led her to new ways of cooking, which ultimately redeemed her health and the ideal of hospitality. Through her tribulations and triumphs, you'll find that no matter what your ailment, there

 

is

 

hope—you can live a full, happy, and healthy life without ever feeling hungry, excluded, or deprived. Because the truth is, food

 

can

 

radically change our lives for the better.