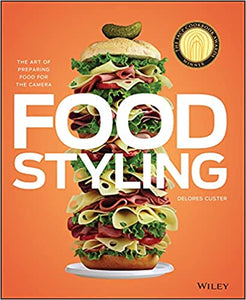 Food Styling: The Art of Preparing Food for the Camera by Delores Custer
Regular price $50.00 Sale
Hardcover
The authoritative and comprehensive guide to the art and craft of food styling
Based on her 30 years of experience in food styling for advertising, magazines, books, and films, Delores Custer presents the definitive lifelong reference on food styling-complete with lists of handy tools and vital equipment, recipes for artificial foods, and guidelines for running a successful food styling business.
Full of ingenious advice on styling in any media and packed with full-color photographs, Food Styling reveals every trick of the trade, from making a beverage appear to sweat to producing those perfect grill marks on meat without a grill. Filled with resources and organized in a simple problem-and-solution format, this is an ideal resource for both experienced foods styling pros and first-timers alike.
This is the only book of its kind on the market, shedding light on the art and craft of food styling
More than 300 full-color photos reveal the process of styling and the spectacular results, teaching and inspiring anyone interested in food and how it is presented in media
The book features a timeline of 60 years of food styling, a glossary of important terms, and a listing of vital styling resources
The only book the aspiring or professional food stylist will ever need, this exceptionally thorough resource covers challenges from flawless fried chicken to fluffy, cloudlike cake frostings-and everything in between
Whether you're looking to break into the food styling business or just touch up on the latest and most effective techniques, Food Styling is the ultimate guide to creating stunning culinary visuals.