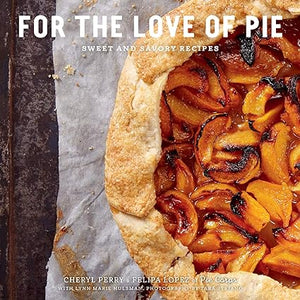 For the Love of Pie Sweet and Savory Recipes by Cheryl Perry & Felipa Lopez
Regular price $14.00 Sale
Hardcover
Join the owners of Brooklyn's Pie Corps to create the finest-quality, handmade, soul-satisfying, savory and sweet pies.

Cheryl Perry and Felipa Lopez, owners of Brooklyn's Pie Corps, share their pie-making expertise and delicious recipes in their first cookbook. For the Love of Pie boasts sophisticated and contemporary flavors in pies made using traditional techniques. Perry and Lopez explain the science and art behind baking a perfect piecrust while offering a variety of crust recipes, from all butter to chocolate crumb.

Paired with the crusts are recipes for dessert pies, pot pies, hand pies, meat pies, and tarts. Several of the Pie Corps' signature recipes, such as Apple Crumb Pie with Rosemary-Caramel Sauce and Buttermilk-Fried Chicken Pie with Buttermilk Gravy and Sautéed Greens, are in the cookbook along with other mouth-watering options like Lemon Thyme Blackberry Mini Tartlets, Picadillo Hand Pies, and Honey-Lavender Custard Pie.

Why pie? It's the essence of handmade. Once you learn the basics of making crusts and fillings, you're there—anything locally available to you is potentially pie. What could be better than that?