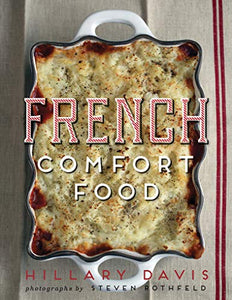 French Comfort Food by Hillary Davis
Regular price $18.00 Sale
Hardcover
The cooking instructor and author of Cuisine Niçoise shares traditional French comfort food recipes from French Onion Soup to Burgundy Beef Fondue.

While France is famous for its haute cuisine, the French also take pride in the culinary traditions of their regional heritage—the timeless dishes that remind them of home. In French Comfort Food, Hillary Davis collects cherished recipes from friends she made while living in France, with added tips and information from her hundreds of well-worn French cookbooks.

Here are family recipes handed down through generations as well as modern remakes of classic favorites. There are recipes for family meals and dinners with friends. You'll also find fondues and souffles, soups and stews, brunches, breakfasts, and desserts. Drawn from Normandy, Alsace, the Alps, and elsewhere across the country, these recipes will inspire you to bring the home-cooked flavors of France to your own kitchen.