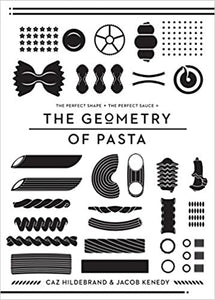 Geometry of Pasta by Caz Hildebrand
Regular price $24.95 Sale
Hardcover
Wheels and tubes, twists and folds and grooves—pasta comes in hundreds of shapes, each with its own unique history, beauty, and place on the dinner table. For centuries these shapes have evolved alongside Italy's cornucopia of local ingredients; if you know how the flavours relate to the forms, you hold the secret formula to good taste.
 
The Geometry of Pasta pairs over 100 authentic recipes from acclaimed chef Jacob Kenedy with award-winning designer Caz Hildebrand's stunning black-and-white designs to reveal the science, culture, and philosophy behind spectacular pasta dishes from throughout Italian history.
 
A triumphant fusion of food and design, The Geometry of Pasta invites us to unlock the hidden properties of Italy's most mathematically perfect deliciousness.