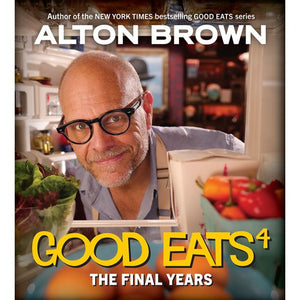 Good Eats 4 The Final Years by Alton Brown
Regular price $40.00 Sale
Hardcover
An all-new collection of must-have recipes and surprising food facts from Alton Brown, drawn from the return of the beloved Good Eats television series, including never-before aired material
This long-anticipated fourth and final volume in the bestselling Good Eats series of cookbooks draws on two reboots of the beloved television show by the inimitable Alton Brown--Good Eats Reloaded and Good Eats: The Return. With more than 150 new and improved recipes for everything from chicken parm to bibimbap and cold brew to corn dogs, accompanied by mouthwatering original photography, The Final Years is the most sumptuous and satisfying of the Good Eats books yet.
Brown's surefire recipes are temptation enough: the headnotes, tips, and sidebars that support them make each recipe a journey into culinary technique, flavor exploration, and edible history. Striking photography showcases finished dishes and highlights key ingredients, and handwritten notes on the pages capture Brown's unique mix of madcap and methodical. The distinctive high-energy and information-intensive dynamic of
Good Eats
comes to life on every page, making this a must-have cookbook for die-hard fans and newcomers alike.