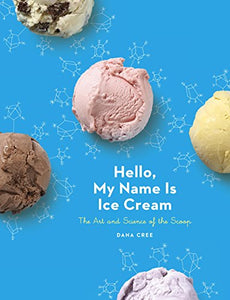 Hello, My Name is Ice Cream by Dana Cree
Regular price $25.00 Sale
Hardcover
With more than 100 recipes for ice cream flavors and revolutionary mix-ins from a James Beard-nominated pastry chef, Hello, My Name is Ice Cream explains not only how to make amazing ice cream, but also the science behind the recipes so you can understand ice cream like a pro.

Hello, My Name is Ice Cream is a combination of three books every ice cream lover needs to make delicious blends: 1) an approchable, quick-start manual to making your own ice cream, 2) a guide to help you think about how flavors work together, and 3) a dive into the science of ice cream with explanations of how it forms, how air and sugars affect texture and flavor, and how you can manipulate all of these factors to create the ice cream of your dreams.

The recipes begin with the basics—super chocolately chocolate and Tahitian vanilla—then evolve into more adventurous infusions, custards, sherbets, and frozen yogurt styles. And then there are the mix-ins, simple treats elevated by Cree's pastry chef mind, including chocolate chips designed to melt on contact once you bite them and brownie bits that crunch.