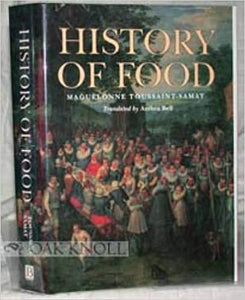 History of Food by Maguelonne Toussaint-Samat
Regular price $40.00 Sale
Hardcover
This wide-ranging and comprehensive reference history covers in one volume the history of foodstuffs, the story of cuisine and the social history of eating. From the origins of mankind, and the transition from a vegetable to an increasingly carnivorous diet, the story unfolds of the interrelationship between people and diet, between particular foods and social mores, between dietary custom and cuisine.
A strong theme of natural history runs through the book. Bees and honey are examined and discussed, as are pulses, soya, fungi, cereals and the sources of vegetable oils. Game and meat of all kinds from poultry to horsemeat are described, as are all kinds of sea foods. Domestic animals, vegetable and fruit farming, fish farming and other human initiatives are compared with the economic markets they serve, and the dietary effects they have. Foods of pleasure, from confectionery to wine, from coffee to caviare are also covered.
This vast survey concludes with an investigation of scientific issues, including methods of food preservation, dietetics and the importance of vitamins. A selection of significant illustrations is included in the text, and there is a comprehensive bibliography and index.

The French edition of this book won the History Prize of the Societe des Gens de Lettres de France.