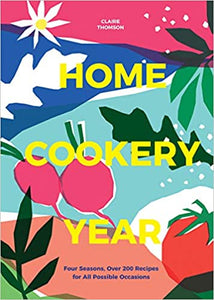 Home Cookery Year Four Seasons, Over 200 Recipes For All Possible Occasions by Claire Thomson
Regular price $45.00 Sale
Hardcover 
The Home Cookery Year is the new essential kitchen bible, year-round and every day. Claire Thomson writes foolproof, imaginative recipes to please the whole family – as a professional chef and mom of three, she understands what it's like to whip up tasty, crowd-pleasing dishes in minimal time at the end of a busy working day.

Wearing its seasonality lightly, with the emphasis on usefulness and practicality, Home Cookery Year offers mealtime solutions for midweek emergencies, cooking on a budget, salads and light lunches, indulgent dishes for special occasions, and celebration feasts

Every recipe you will ever need is in here, for every occasion, with twists on classics, and super ideas for jaded palates for young and old alike.