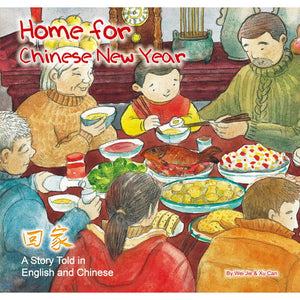 Home for Chinese New Year by Wei Jie & Xu Can
Regular price $16.95 Sale
Hardcover
The Chinese New Year is a time for family reunions. This Chinese children's story tells a delightful trip with lots of cultural details along the way!
Jia Jun's Dad worked out of town all year around. Now it's time for him to come home. He took a train, bus, three-wheeled motorcycle, ferry-boat and even walked for many miles. He finally made it home and had a reunion dinner with his family on New Year's Eve.
On his trip, as Jia Jun's Dad was rushing to get home, he lost his apple, water, gloves and scarf, but he took very good care of his gift for his son.
During the holiday season, Jia Jun was extremely happy as he was with his Dad all the time. They set off firecrackers, put up couplets and even made snowmen. In a few days, Dad was ready to head back to work, but it was certain that Dad would be home again next year to celebrate the Chinese New Year with his family.