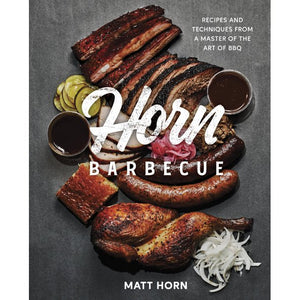 Horn Barbecue by Matt Horn
Regular price $30.00 Sale
Hardcover
Matt Horn, one of Food & Wine's ten "Best New Chefs" for 2021, is the most exciting new talent in American barbecue in years. His Horn Barbecue restaurant in Oakland, California, recently awarded a rare "Michelin Guide Restaurant" designation, has lines outside that run for blocks and hundreds of rave reviews in local and national media. The draw? Cooked-to-perfection meats rubbed, mopped, basted, and sauced the way good BBQ should be, plus comforting sides and fixins' and inspired desserts and drinks. Now the restaurant's secret recipes, and many more from Matt's own personal repertoire, are revealed in the pages of this exciting, user-friendly, and beautifully photographed book.
Matt's barbecue style, which he calls West Coast Barbecue, is original. Other barbecue cookbooks focus on one regional tradition, such as Texas or the Carolinas. Matt draws on both of those traditions--and recipes from them appear liberally in this book--but he draws on other traditions as well and adds his own California-style spin to the mix, by working in lots of veggies and fruits and by featuring things like poultry and seafood, which are non-traditional BBQ proteins.
Rookies who just bought their first backyard smoker (or who want to smoke on a standard grill) as well as seasoned BBQ veterans will find a whole world of new ideas in this authoritative guide to cooking low and slow over smoky, smoldering woods. It includes:
Pork Ribs, Beef Ribs, Pork Shoulder, and Burnt Ends
Matt's grandmother's amazing recipe for Smoked Oxtails
Southern-style classics, like Hot Link, Smoked Catfish, and Smoked Jambalaya
Texas-style Beef Brisket, in Matt's unique style
Easy-to-make sides, such as Smoked Pit Beans, Cornbread, Hoe Cakes, and Watermelon Salad
Crowd-pleaser desserts, from Banana Pudding to Peach Cobbler to Pineapple Upside-Down Cake

Matt also tells his own inspiring story of how he learned to make BBQ and open a restaurant, and about how his journey echoes and continues the glorious lineage of African American barbecue in the US--an amazing yet often unknown history.