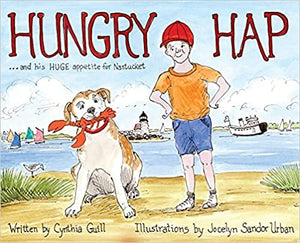 Hungry Hap by Cynthia Guill
Regular price $14.00 Sale
Hardcover
Your children will delight in the fun adventures through Nantucket of a boy and his energetic dog who needs to learn the lesson of moderation when it comes to his huge appetite.
Hungry Hap captures the affinity and bond between a boy and his adopted, four-footed friend.
A young boy, Henry, and his dad start on their way in search of a loving dog in need of a warm home and find themselves on a wild adventure. Their adopted dog is quite a handful, more than they expected. He has a VERY healthy appetite and even GREATER imagination, leading them on an exploration of the island of Nantucket. Along their quest for their dog to feel a bit more healthy, they discover that spending quality time with one another feeds more than just the stomach's appetite.
They say a dog is a boy's best friend, but friends of Henry and Hap know this bond is deeper than long walks and turkey treats. The poetic text and heartwarming illustrations evoke the devotion and happiness between the pair.