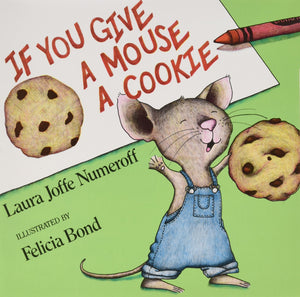 If You Give A Mouse A Cookie by Laura Numeroff
Regular price $17.99 Sale
Hardcover
"If you give a mouse a cookie, he's going to ask for a glass of milk. When you give him the milk, he'll probably ask you for a straw. . . ". So begins this delightful story about an energetic mouse and an accommodating little boy. Full-color illustrations.
If a hungry little mouse shows up on your doorstep, you might want to give him a cookie. And if you give him a cookie, he'll ask for a glass of milk. He'll want to look in a mirror to make sure he doesn't have a milk mustache, and then he'll ask for a pair of scissors to give himself a trim....
This book is a great first introduction to Mouse, the star of the If You Give... series and a perennial favorite among children. With its spare, rhythmic text and circular tale, If You Give a Mouse a Cookie is perfect for beginning readers and story time. Sure to inspire giggles and requests to read it again!