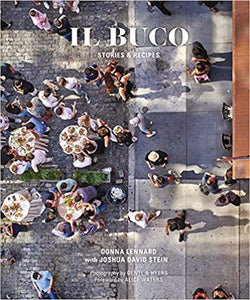 Il Buco Stories & Recipes by Donna Lennard
Regular price $60.00 Sale
Hardcover
Foreword by Alice Waters 
In honor of its twenty-fifth anniversary comes this full-color culinary celebration of Il Buco, one of New York City's most beloved restaurants, featuring more than 80 mouthwatering recipes and detailing the romantic origins of the restaurant's philosophy of sourcing the best prime materials, including olive oil, salt, vinegar and all that make the Mediterranean way of life so alluring.  
"This book holds the succulent substance of Il Buco's history, which has always been guided by Donna's acute intuition. Through these pages, we travel around the Mediterranean, from the vineyards of Umbria to the salt flats of Sicily, visiting the farmers, artisans, and winemakers in their element. And then we return to Bond Street, stories and recipes in hand, to celebrate life and everything possible at the melting edge of sizzling pans and the heart of Italy."—Francis Mallmann
In New York City, restaurants, even very good ones, come and go. But there are a very small number of establishments that take root and continue to flourish, where food, wine, atmosphere, history, and all the makers behind the scenes come together in a unique alchemy to create an experience. Il Buco is such a place. For over 25 years, Donna Lennard has presided over an international—and ever growing—family of artisans, farmers, winemakers, chefs and regulars from her outpost on Bond Street in the heart of New York City.  Since 1994, Il Buco has withstood the test of time.
In Il Buco, written with Joshua David Stein, Donna shares her incredible journey from antique shop owner to award-winning restaurateur and taste-maker. She reflects on the iconic ingredient-driven, farm-to-table Italian cooking that seduced palates and earned the loyalty of notoriously discriminating New York diners. Donna also expounds upon the essential elements of good eating and good living she learned over the restaurant's nearly three-decade history. Both a cookbook and a deeply personal journey through the places and with the people who have influenced the restaurant's ethos the most, Il Buco includes the beloved best-of dishes from the kitchen's roster of now-famous chefs: Ignacio Mattos's Black Kale Salad, Justin Smillie's Bucatini Cacio e Pepe, and Sara Jenkins's Porchetta alla Romana, to name a few.  It also includes profiles of the artisans whose craftsmanship evokes the warm Mediterranean patinas that have enhanced the restaurants' atmosphere over the years.
Donna has dedicated her life to identifying, cultivating, and celebrating the essential ingredients of a beautiful life well-lived. Il Buco isn't just a place, it's a feeling—of warmth, of home, of ease, of love—and Il Buco allows any home cook to experience some of the restaurant's beautiful and inviting magic, creating sumptuous easy meals to enjoy at his or her own table. Accompanying the mouthwatering recipes and gorgeous photography are Donna's insights on what it truly means to live well and to eat well and tributes to food producers in Spain, Italy, France and other parts of the world, including dedicated chapters on the building blocks to a perfect meal: salt, olive oil, wine, and salumi, among others.
Il Buco is a very personal exploration of what makes the heart of a restaurant and a lifestyle: a celebration of a true New York success story. It is a book about learning to listen to what pleases us, and a reminder of just how wide, wonderful, and flavorful the world is.