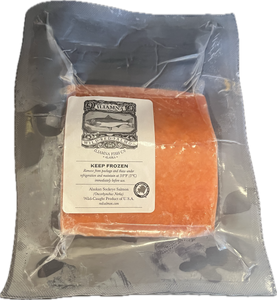 Iliamna Wild Caught Salmon
Regular price $15.00 Sale
Beautiful deep red fish from Alaska!
From Iliamna:
Iliamna Fish Company is simply, almost quaintly, dedicated to providing the world's best wild salmon. In a domestic market starved for premium wild sockeye salmon, we offer the finest available. We fish completely by hand, using small, 50 fathom nets. We fish out of 20-foot long skiffs, small craft that preserve the quality of our fish, because our fish are not crushed under hundreds of tons of other fish, or roughly-harvested with industrial machinery.
We carefully oversee the filleting and preparing of our fish for your table—we consider every fish a possible feast. We are devoted to fishing for a simple reason—we love fish. The hard work, the time with family, the salty air, and most importantly, the perfect, delicious beauty of wild, fresh fish. Because we are a third-generation fishing family, we are an integral part of a community, an economy, and an environment that we are committed to maintaining.