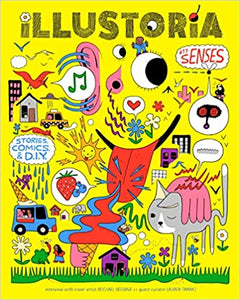 Illustoria No. 17: Senses by Elizabeth Haidle and Lauren Tamaki, editors
Regular price $16.00 Sale
Paperback
An unmissable issue, Senses explores all that we can see, hear, touch and taste. You'll want to absorb the 64 pages of attention-grabbing comics, stories, and DIY projects that traverse gardens of earthly delights, recipes with Dog Chef and Broccoli Guy, the visual art of optical illusions, and the best smellers among the world of creatures. Read interviews with our cover artist, Michael DeForge, and a host of sensory experts, such as tea-tasters, sound engineers, and perfume makers. Lauren Tamaki―our guest curator―invites a host of new artists to join all your familiar favorites.
Illustoria is a print magazine for creative kids & their grownups. We celebrate visual storytelling, makers and DIY culture through stories, art, comics, interviews, crafts and activities. Our high-quality, tri-annual publication is geared toward readers ages 6-12 and the young at heart.
Illustoria is the official publication of the International Alliance of Youth Writing Centers, publishing writing and art by young people alongside accomplished professionals.