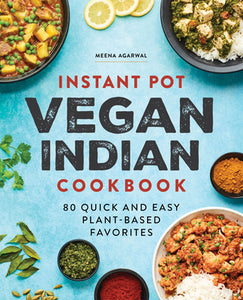 Instant Pot Vegan Indian Cookbook by Meena Agarwal
Regular price $14.99 Sale
Paperback
Cook up vegan Indian meals in no time with your Instant Pot
The Instant Pot makes it quick and easy to whip up vegan Indian cuisine that only tastes like it took hours to make. This vegan Indian cookbook offers a comprehensive collection of delicious plant-based Indian recipes that you can make entirely with your Instant Pot. No expensive or hard-to-find ingredients necessary--just everyday basics you can find at your local grocery store or Indian grocer.
This vegan Instant Pot cookbook includes:
An intro to Indian cooking--Learn more about the staples, spices, and pantry items you'll need to get started, as well as how to get the most out of your Instant Pot when cooking Indian food.
Realistic cooking times--Every recipe includes accurate time estimates that account for every step of the cooking process, including pressure-build and pressure-release.
A wide range of recipes--Get a true taste of India with vegan recipes representing dishes across different regions and culinary traditions, from common home-cooked meals to adaptations of restaurant favorites.
Spice up your Instant Pot with flavorful, plant-based Indian recipes.