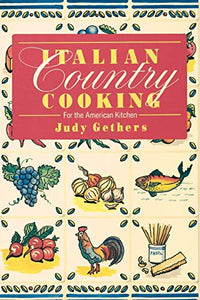 Italian Country Cooking by Judith Gethers
A glorious celebration of Italian country cooking featuring a wealth of regional specialties presented especially for the American kitchen, from the former head of the cooking school at Ma Maison in Los Angeles


Here are
Appetizers
including Caponata Timbales, Melted Mozzarella with Tomato and Basil, and Roasted Peppers. A tempting variety of
Salads, Stocks, and Broths
include a savory Asparagus Rice Soup and Vegetable Soup with Pesto.
Sauces
include Simple Tomato Sauce and a delicious Zucchini Sauce. There is
Pasta, Polenta,
and
Rice
galore.
Seafood
such as Striped Bass with Fennel Seed and Scampi alla Carlina.
Meats
range from Steak Florentine Style to Potted Rabbit with Mushrooms and Olives. From the
Poultry
section, Chicken with Herbs and Casserole of Duck. A huge array of
Frittatas and Egg Dishes, Vegetables,
and
Breads and Doughs
. And, oh, the
Desserts
—from Almond Macaroons to Torta Amaretti, from Strawberries in Red Wine to Caramel Ice Cream.

This superb cookbook offers:
• detailed, illustrated instructions
• time-saving techniques as well as traditional preparation methods
• a discussion of the herbs, spices, oils, cheeses, and other special ingredients so vital to Italian cooking
• suggestions for the perfect wine to accompany many dishes
• and sample menus for every occasion.