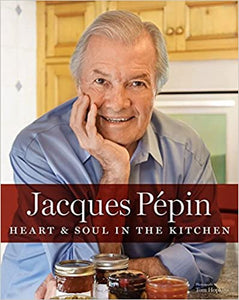 Jacques Pepin Heart and Soul in the Kitchen by Jacques Pepin
Regular price $35.00 Sale
Hardcover
n the companion book to his final PBS series, the world-renowned chef shows his close relationship to the land and sea as he cooks for close friends and family.

Jacques Pépin Heart & Soul in the Kitchen is an intimate look at the celebrity chef and the food he cooks at home with family and friends—200 recipes in all. There are the simple dinners Jacques prepares for his wife, like the world's best burgers (the secret is ground brisket). There are elegant dinners for small gatherings, with tantalizing starters like Camembert cheese with a pistachio crust and desserts like little foolproof chocolate soufflés. And there are the dishes for backyard parties, including grilled chicken tenderloin in an Argentinean chimichurri sauce.
 
Spiced with reminiscences and stories, this book reveals the unorthodox philosophy of the man who taught millions how to cook, revealing his frank views on molecular gastronomy, the locovore movement, Julia Child and James Beard, on how to raise a child who will eat almost anything, and much, much more.  For both longtime fans of Jacques and those who are discovering him for the first time, this is a must-have cookbook.