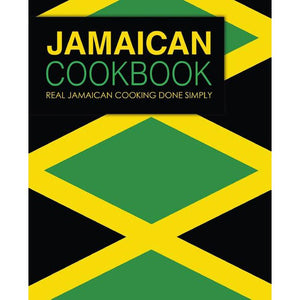 Jamaican Cookbook Real Jamaican Cooking Done Simply by BookSumo Press
Regular price $11.00 Sale
Paperback
From Kingston to Montego Bay. Authentic Jamaican Cooking.
Get your copy of the best and most unique Jamaican recipes from BookSumo Press.
Come take a journey with us into the delights of easy cooking. The point of this cookbook and all our cookbooks is to exemplify the effortless nature of cooking simply.
 In this book we focus on Jamaican cooking. The Jamaican Cookbook is a complete set of simple but very unique Jamaican recipes. You will find that even though the recipes are simple, the tastes are quite amazing.
So will you join us in an adventure of simple cooking?
Here is a Preview of the Jamaican Recipes You Will Learn:
Guyanese Rice
Hot Cannellini Chili
Kiyana's Bread
Allspice Lime Style Tortilla Soup
Tropical Plantain Pies
Spicy Jerk Ginger Chicken Wings
Chicken and Long Grain
Caribbean Fish Chips
Jerk Fish
Hot Coconut Rice Beans
Aphrodisiac Grilled Chicken
Kingston Curry
Tropical Latin Cake
Real Jerk Chicken
Jerk Pineapple Fajitas
Jamaican Egg Noodles and Chicken
Kalisa's Chips
Jamaican Cabbage
Brown Glazed Carrots
Jamaican Roast
Nutty Jerk Coleslaw
Grandma's Spicy Goat Curry
Flame Broiled Sweet Potatoes
Alvita's Dumplings
Simple Banana Chips
Coconut Cod Stew
Skirt Steak Habanero Sauce
Tropical Prawns Skillet
Cod Chips
Honey Jerk Drumsticks
Sweet and Sour Snapper Casserole
Caribbean Ginger Peanut Sauce
Jamaican Sunset Soup
Glazed Coconut Aoli Burgers
Kidney Beans and Rice from Jamaica
Seasoned Coconut Fillets
How to Make Jamaican Beef Patties at Home
Saucy Rum Ribs
Tropical Potato Salad
Montego Bay BBQ Sauce
All Spice Tempeh Bites
Hot Shrimp
Cherry Pimento and Potato Casserole
Caribbean Meatloaf
Saucy Oxtail 101
Ginger Chicken Kabobs
Icy Rum Eggnog
Jamaican Sloppy Burgers
Watercress Salad
Much, much more!