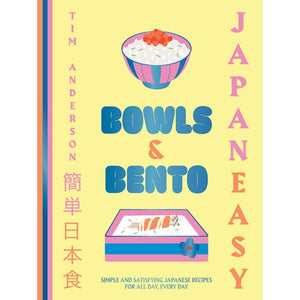 Japaneasy Bowls & Bento by Tim Anderson
Regular price $35.00 Sale
Hardcover
JapanEasy: Bowls & Bento
is your essential guide to having super-satisfying Japanese meals 24/7. Tim Anderson shows you how you can build your own delicious bowl from scratch as well as how you can construct your very own bento (Japan's beloved and beautiful lunch boxes) from the comfort of your own home. Fun to make (and eat)
JapanEasy: Bowls & Bento
celebrates the versatility, simplicity and joy of Japanese food. This is everyday self-care and self-love, in bowl and bento form.
Tim will show you just how easy it is to cook your very own Japanese meals any time of day. You can expect to find everything from soups and noodle bowls to Japanese donburi and curries: warming, filling dishes that can function as either fun, crowd-pleasing dinner party dishes or soothing sofa-based suppers. You will also discover a wide variety of effortless bento recipes that can be made by mixing and matching various small, super-fast dishes prepared in advance (or leftover from dinner) - all of which can also easily be converted into exquisite Japanese breakfasts!
Almost everything in this book can be prepped ahead and eaten later, either cold or re-heated, with no loss in quality, allowing you to have Japanese food for breakfast, lunch, and dinner in a matter of minutes. Because after all, Japanese food is not just for dinner - Japanese food is forever.