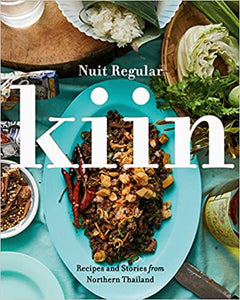 Kiin Recipes and Stories From Northern Thailand by Nuit Regular
Regular price $28.00 Sale
Hardcover
A journey through northern Thailand in 120 authentic recipes with stunning location photography.

Nuit Regular offers the unique flavours of northern Thai food in a stunning collection of authentic recipes, essays, and location photography. Inspired by the ingredients and aromas of growing up in northern Thailand, Nuit learned to cook in her mother's kitchen. Cooking food with ingredients from the market or family garden, this cookbook is a reflection of Nuit's life in Thailand and her passion for cooking and sharing Thai cuisine with others.

Kiin, which means "eat" in Thai, transports readers to northern Thailand on a journey to discover the ingredients, markets, and culture that inform all of the recipes. A Thai meal rarely has just one dish--and you will have plenty of recipes to cook and share in the traditional Thai style--a tableful of brightly coloured dishes that the whole family can pass around and enjoy. The recipes, including Steamed Chicken Dumplings, Vegetarian Golden Bags, Spicy and Sour Soup with Shrimp and Tom Yum Paste, Northern Beef Curry, Young Green Jackfruit Curry, Rice Vermicelli Noodles with Barbecue Pork, Five Spice Chicken with Egg, Papaya Salad, and Mango Sticky Rice, are a glimpse into the wonders of northern Thai food.