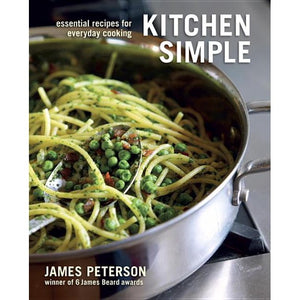 Kitchen Simple by James Peterson
Regular price $30.00 Sale
Hardcover
From award-winning author and renowned cooking instructor Peterson, a full-color cookbook of more than 200 time-efficient recipes that put dinner on the table with minimal prep, while delivering maximum flavor.
With
Kitchen Simple
, James Peterson, one of America's most celebrated cookbook authors and renowned cooking instructors, delivers a definitive resource for the busy home cook. Elevating routine, weekday fare into exciting culinary creations, Peterson proves unequivocally that great food need not be complicated or time-consuming to prepare.
More than 200 recipes, such as Summer Steak Salad, Mexican-Style Gazpacho, White Bean Bruschetta, Red Cabbage with Bacon and Apples, and Ricotta Ravioli, are thoughtfully streamlined to require no more than thirty minutes of active prep time with delivery to the table in under an hour. For leisurely meals and celebratory occasions, there are also dozens of luxe dishes, like Red Wine Pot Roast, Eggplant Parmigiano, Duck Confit, and Profiteroles with Chocolate Sauce. And, from the master of sauces, comes a paired-down primer on making foolproof Mayonnaise, Caper and Herb Sauce for vegetables and chicken, and an easy Béarnaise to dress up grilled fish.
Kitchen Simple presents creative possibilities for weeknight meals, quick-and-easy breakfasts, impromptu dinner parties, and inspired last-minute desserts. And with Peterson's invaluable variations, cooks can confidently substitute harder-to-find ingredients with items already at hand. Additional advice on how to stock a pantry with staples to make everyday cooking even easier, plus an inventory of truly indispensable kitchen tools make Kitchen Simple a go-to source of inspiration for cooks of all persuasions: novice or experienced, time-pressed or laid-back, casual or serious.
Hundreds of recipes designed to get exceptional meals on the table in under an hour