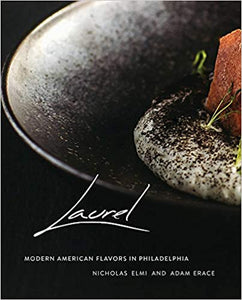 Laurel Modern American Flavors in Philadelphia by Nicholas Elmi
Regular price $18.00 Sale
Hardcover
Laurel, the first book from restaurateur and Top Chef winner Nicholas Elmi, promises to be as engrossing and delicious as its restaurant namesake, a culinary stronghold in South Philly.

Elmi's French background and training informed Laurel from the start, but Laurel is a true American restaurant with a modern feel. The acclaimed nine-course tasting menu is unmatched in Philadelphia. Elmi does seasonality just right.


Fall brings Apple-Yuzu Consommé, Marinated Trout Roe, and Bitter Greens.
Winter serves up Bourbon-Glazed Grilled Lobster, Crunchy Grains, and Apple Blossom,
Spring is evidenced by Black Sea Bass, Peas, and Rhubarb
Summer is distilled in Marigold-Compressed Kohlrabi, Buckwheat, and Cured Egg.


The book is also a letter of gratitude to the restaurant's suppliers, whose work colors every dish they serve. Each chapter is a full nine-course tasting menu with accompanying cocktail, and almost as delicious on the page as the meal itself.