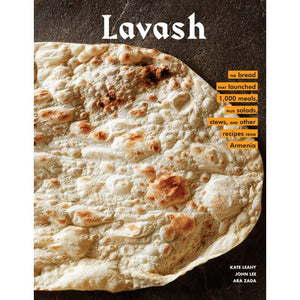 Lavash The Bread That Launched 1000 Meals, Plus Salads, Stews, and Other Recipes From Armenia by Kate Leahy
Regular price $24.95 Sale
Hardcover
An ode to Armenian food and culture, and the UNESCO-recognized bread of Armenia, Lavash.
This cookbook not only reveals how to make the ubiquitous and doable flatbread lavash, the UNESCO-recognized bread of Armenia, but also shares 60+ recipes of what to eat with it, from soups and salads to hearty stews paired with lots of fresh herbs. Stunning photography and essays provide an insider's look at Armenia, a small but fascinating country comprising dramatic mountains, sun-drenched fields, and welcoming people. With influences from the Middle East and the Mediterranean as well as from Russia, the food of Armenia is the next cuisine to explore for people who want to dig deeper into the traditions formed at the crossroads between the East and West.
Fans of cookbook best sellers like Yotam Ottolenghi's Jerusalem and Ottolenghi will love exploring the Mediterranean, Middle Eastern, and Russian influences in Lavash.
 For both armchair travelers and home cooks, this recipe book is as enticing in the reading as its recipes are to the palate
With growing interest in fermentation and the medical benefits of a Mediterranean diet, Armenian food offers a new take on healthy cookbooks and cooking.