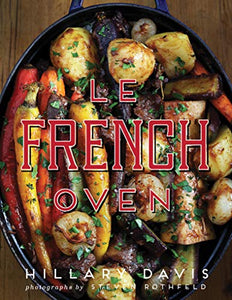 Le French Oven by Hillary Davis
Regular price $20.00 Sale
Hardcover
The author of French Comfort Food presents an array of authentic recipes using the cocotte—French cuisine's answers to the Dutch oven.
 
Cast iron pots have been a mainstay of French cuisine for generations. In Le French Oven, Hillary Davis shares her love for this traditional cookware and the many delectable French foods that can be made with it. Using various techniques such as braising, stewing, roasting, baking, stovetop, and frying, Le French Oven features recipes for appetizers, soups, main courses, desserts, and more.
 
Davis also includes information about the major French made cocotte brands, and how to use them to create fabulous dishes such as Warm Mushroom Custards with Garlic Toast, French Carrot Rice Soup, Basque-Style Paella, Two-Hands Praying Rack of Lamb Roast, Lemony Braised Chicken with Green Olives, and Beef Pot-au-Feu. The sweet recipes include fabulous fare such as Raspberry Clafoutis and Hot Brandied Peaches Over Ice Cream.