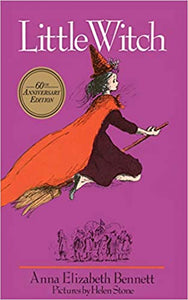 Little Witch by Anna Elizabeth Bennett
Regular price $12.95 Sale
Paperback
"Miss Bennett…has a talent for mixing fantasy, realism, and comedy. She also includes a dollop of pure syrup, but this will undoubtedly make the story all the more palatable for the young. It is an extremely good one to read [during the Halloween season]."—The New York Times

This 60th anniversary edition of the classic Little Witch is sure to delight fans of mythology and magic. It follows the adventures of nine-year-old Minx, a little which, who wants to sneak away and go to school. One day, she manages it. The story follows her trials and adventures with her mortal schoolmates and teachers.

Here is a 60th anniversary edition, this classic of children's fantasy will delight new readers, young and old, who have a fondness for the Harry Potter or Percy Jackson series.