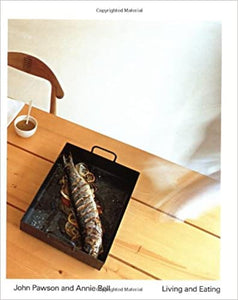 Living and Eating by John Pawson
Regular price $60.00 Sale
Hardcover
As one of the world's foremost proponents of minimalism, British architect John Pawson has spent his life trying to distill the world into its essentials. In his first cookbook, Pawson brings this philosophy of simplicity to the kitchen.

In Living & Eating, using methods similar to those he brings to structural design, John Pawson creates simple menus that underscore the unique character of each ingredient. Beginning with a sound foundation, Pawson advises us on the cornerstones of quality in food. In the recipes that follow, he emphasizes the strengths of particular ingredients. The simple poached egg, for example, relies on nothing more than fresh eggs, boiling water, and a splash of vinegar to attain its perfect degree of richness. A more complex dish, such as Lemon Risotto, blends the robust flavors of citrus zest, aged cheeses, and savory broth into a creamy mixture in which each element is maximized.

The color photographs that illustrate the book were taken in Pawson's elegantly spare London townhouse and demonstrate perfectly his vision of uncluttered luxury. Separated into two main parts, Living & Eating covers both cooking and home design.